Best Marketing Strategy For Restaurants
The best marketing strategy for restaurants is to understand and identify the target market. Different groups react differently to different advertising and promotional tactics. Understanding your customer base will help you tailor your campaign so that your message gets across to your target audience and you can spend your resources wisely.
What Are Restaurant Marketing Objectives?
An important goal of a restaurant's marketing mix is to achieve the company's commercial objectives, which include increasing revenue, increasing profitability, increasing customer satisfaction, and increasing guest loyalty.
Other restaurant marketing objectives should include the development of the company's brand and identity in the community which is critical to the survival of the restaurant.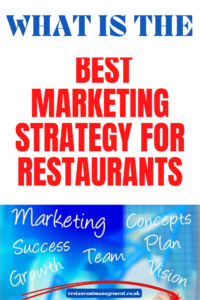 SMS Marketing
SMS marketing for restaurants has a high open rate and a low click-through rate, so it is a relatively cheap marketing strategy. It's important to make sure your SMS message contains interesting content that makes people want to visit. You can also send out special offers during special events in your area. This will encourage customers to come to your restaurant. You can use customer-loyalty programs to keep customers coming back for more.
For example, you could personalize each table setting and make ordering options easier. You could also experiment with self-service kiosks and order from the table.
Email Marketing
Another effective restaurant marketing strategy is email marketing. This is one of the best marketing strategies to engage with your customers. The first step is to build an email list. Gaining email subscribers is easy with affiliate websites, landing-page ads, and social media.
Your emails should be friendly and make your customers want to visit your restaurant. Use valuable content in the emails. Don't forget to include discounts and special offers in your emails. In addition, you can also use blogs to promote events and giveaways.
The best restaurant marketing strategy should focus on building a list of email addresses. It is an excellent way to nurture leads and boost sales
Besides sending emails to consumers, restaurants can also use email marketing to send personalized messages to their customers. Moreover, people tend to write reviews about their experiences in restaurants, so making sure to include relevant information in your emails will help you stand out from the crowd.
Retargeting
Another effective restaurant marketing strategy is to use retargeting. People will be more likely to visit a restaurant if they have seen it advertised in an email. Using retargeting ads allows you to follow up with those who didn't buy anything.
Fortunately, you can sign up for this service with any major ad platform. Besides creating a unique, attractive menu, you should also improve your SEO (Search Engine Optimization). This will help your business appear higher in online searches and will make it more discoverable.
Digital Marketing
Digital marketing is another great way to increase brand visibility and attract more customers. You can use social media like Twitter to tweet your special offers, and Facebook to spread the word about your new menu items.
However, remember that most internet users are busy and are looking for results fast. Therefore, you should make your restaurant website user-friendly. Once your customers are interested, you can send them personalized messages that will remind them of your brand.
Related articles:
How To Improve Restaurant Profits
Social Media Management
For restaurants to succeed in the online space, it is vital to invest in a professional website and Facebook or Instagram pages. Your website is the most important marketing tool for your restaurant
It is also important to create an interesting menu and share it on social media. You should also make the restaurant's Facebook profile attractive and easy to read. As much as possible, you should include links to your social media profiles on your website.
By using social media, you can also reach your customers anytime, anywhere. You can create an account for your restaurant, hire a photographer, invest in photo-editing software, and optimize your Google business listing to get the most out of it. You can even offer a loyalty program for loyal customers to reward them for returning to your restaurant.
Restaurant marketing ideas that work best
If you're trying to get your restaurant noticed in your area, here are 13 creative marketing ideas for your restaurants:
Incorporate reservation links into your Google Business listing.
Make improvements to the presentation of dishes so that they are Instagrammable.
Improve localSEO on the internet.
Make use of innovative restaurant promotions.
Send out email marketing campaigns that are effective.
Pay attention to customer loyalty and reward them.
Collect and make use of guest information.
Organize promotions and events.
Distribute vouchers and other promotional materials.
Show what's going on behind the scenes.
Reply to negative online reviews.
Highlight the restaurant's accomplishments of your employees.
Make use of hot topics that are currently trending.
Conclusion
By using a variety of marketing techniques, you can create a distinctive marketing strategy for your restaurant. Review all the strategies available, and select the one that's best for your restaurant.